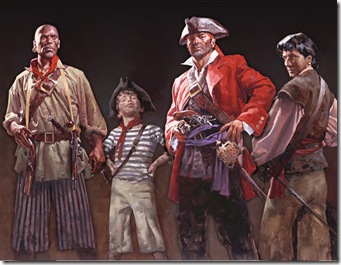 A collection of the inhabitants of Caribdus with whom our crew have some kind of friendly connection.
Here can be found Former Crewmates, Allies on land and at sea, and Associates in both Business and Pleasure. Who knows when you might need a friendly face to talk to, or an allied arm at your side?
Alfredo Pancini : Newly elected Mayor of Jomba Town
Associates
Edit
Victoria Cornell : A former Damsel-in-Distress
Jeremiah Cornell : Ex-Privateer and father to Victoria
Equias : A Scurillian retired Super.
Corvas Cai : Masaquani Captain, Privateer and Mercenary.
Admiral Duckworth : Commander of the British East India Company Fleet.
Jose-Maria Cabbaleros : Spanish Cartographer, based in Marsales.
Farnis Foy : Masaquani Merchant and Sympathiser with the Keiran Rebels.
Senator Ranis Racen : Political Leader of the Keiran Colony of Timin.
Rana Racen : Daughter of the Senator
Nizzini : Scurillian Racketeer.
Kizzef the Grael : One of Nizzini's Enforcers.
Mandy Montoy : Masaquani Enforcer.
The Man in Black : A leader amongst the Keiran Rebels.
Annie Mason : Fiesty wench, romantically involved with John Smith
Azy Anglesea
Hannah Jones - 5 Year Old Castaway
Other NPC's
Edit
Ad blocker interference detected!
Wikia is a free-to-use site that makes money from advertising. We have a modified experience for viewers using ad blockers

Wikia is not accessible if you've made further modifications. Remove the custom ad blocker rule(s) and the page will load as expected.